Don't Walk Away! Get Underwater Mortgage Help, Call 888-945-5553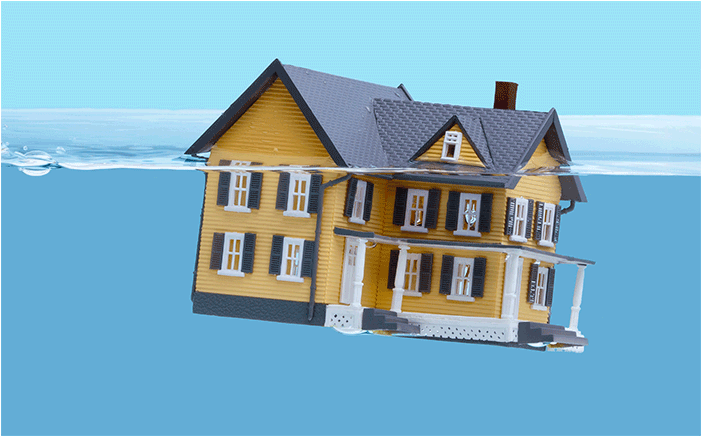 [contact-form-7 id="5528″ title="Services Required_Underwater Mortgage Help"]
What is an Underwater Mortgage?
Underwater mortgage is when fair market value of a home is less than the mortgage loan owed on a home. This situation became common after the housing market crash in late 2000s when a huge number of homes lost a considerable portion of their value.
Are You Underwater?
If fair market value of your home is less than the amount owed on your home, then you are underwater. If it is true, you are not alone! Almost about 5.4 million homes were underwater till April-2015. So, what you can do to avoid legal complications and a hit on your credit score?
Underwater Mortgage – What Are My Options?
Refinancing
If you are financially strapped and unable to make your mortgage payments, you need to find some better solution instead of waiting for a miracle. Refinancing is a good option. You would be able to lower your mortgage payments, interest rate, term of loan or even the type of your loan. You need to consult refinance expert to discuss your scenario. We Can Help You In A Way That Works!
HARP
Your underwater home loan may be eligible for a refinance through federal Home Affordable Refinance Program if you meet the requirements.  This program allows eligible homeowners to refinance from 105 percent to as high as 125 percent. Every underwater loan does not qualify for HARP. You need not be on road for foreclosure, any delinquent payment in last 12 month will disqualify you.
HAMP
Do you have missed payments along underwater mortgage? If yes, you can still apply for HAMP, the federal Home Affordable Modification Program available through mortgage lenders. To qualify for HAMP you need to demonstrate financial hardship that puts your mortgage is in imminent danger or default. The mortgage must be owned by Fannie Mae, Freddie Mac or by others signed up with the U.S. Treasury to qualify for HAMP.
Why Absolute Consultant Group?
Absolute Consultant Group (ACG) is premier service provider in the real estate industry with more than a decade of experience. We have attended a huge number of short refinance, short sale processing, foreclosure and loan modification cases and have helped our valuable customers to avoid foreclosure and legal complication that may arise due to foreclosure. We have our consultants in major states that are fully equipped with the knowledge and experience that is required to help you. Our foreclosure services will make you comfortable while going through this stressful process. We are a team of dedicated foreclosure agents that can help you at any state of foreclosure process.
Don't Lose Your Home In a Foreclosure! Consult An Expert Today!