How to Manage Broker Price Opinions Effectively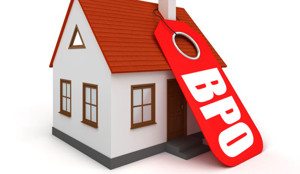 There are a number of reasons when a professional valuation of property is desired yet a formal appraisal is not required. In these instances, Broker Price Opinions (BPO) is ideal. A Financial Institution may legally order Broker Price Opinions for:
REO property

Foreclosures

Short sale

An addition or a cross check to an appraisal.

Home Equity Loans and Home equity lines of credit of less than $250,000.

Appeals to remove PMI (Private Mortgage Insurance).

Continued Diligence on a loan.

A selling/purchase price for a portfolio of home loans (usually for thousands of loans).
The BPO of a residential property is conducted by a local, licensed real estate agent. The report combines information from a drive-by exterior examination, external data sources, previous sale data, property assessment data, recent comparable sales and current neighborhood listings, as well as a photograph of the subject property. Broker price opinions include estimates of repairs to obtain fair market value, neighborhood information, and value estimate (90, 120, 180 day marketing time for "as is" and "as repaired" values). Photographs include subject and street scene photographs. Front photographs of all comparable sales are also available for an additional fee. This product is not an appraisal and does not include an inspection of the interior of the property.
BPO management is the single greatest success factor when dealing with short sales. For the inexperienced BPO means "Broker Price Opinion" which is a bit of an assumed title when you consider that most BPO's are performed by agents. The fundamental problem with BPOs is that there is literally NO incentive for the BPO agent to get the value correct. Where incentive is lacking typically quality will lack and that is certainly the case with BPO's. Agents are paid a very small fee to provide a bank with a few comparables that indicate the value of the house to the bank. The fee's size, or lack, does not encourage attention to detail. Furthermore, there is not peer review system or other quality control method in place to make sure these values are accurate. Good BPO agents do not get paid more than bad ones.
The costing can be the most important turning point in any short sale transaction. If conducted correctly, the bank receives a clear picture of what your listing is worth and then, if you're working with the Short Sale Cooperative, your market value offers will be approved almost 100% of the time.
Influencing the BPO absolutely represents your client's interests. A distended value from an independent third party can be the difference between a foreclosure and a short sale, or between a large loss participation requirement and no loss participation requirement. If you are not willing to meet the BPO agent and provide a gripping case for the current fair market value than you are not serving your clients interests at all. If a BPO agent values the property at $400,000 and it is really worth $350,000, not only could you lose the sale, but your client could experience a negative outcome when compared with short sale.
In order to be able to intelligently discuss the BPO with the seller's claim holder, it is a good idea to assure that it has been completed, and that it was completed by a licensed agent. If you go to the property at the time of the appointment, you can verify that someone actually showed and that the individual who showed was not merely an assistant sent to take photos of the subject property.
Prepare you own Comparative Market Analysis:-
Using your MLS, find at least 3 comparable properties that closed within the last three months. These properties need to support your purchase price. If they do not, you need to have helping and contributory materials that might explain the imbalance in value e.g., photos, repair bids.
Order a property appraisal:-
When all else fails, you can always submit a full appraisal to the bank. Since the appraiser is certified, the short sale lender generally puts a lot of beliefs and acceptance in the values noted on a full appraisal. Yes, appraisals cost money, and someone will have to pay for the appraisal, but often times, this is the best way to provide an accurate value to the short sale lender.
Here is an easy standard for an ethical way to manage the BPO process: Don't lie. If you have compelling, forthright data that represents a fair market value for the home in question you should passionately present that information to the BPO agent. In fact, you must.
Know more than anyone else about that home's comparable sales and the relative accuracy of each comparable home a BPO agent would encounter in their research (not all sales are what they seem and not all MLS listing sheets paint the clearest picture of the facts).

Restrict access to the home so that you can meet the BPO agent.

Present that information in a clear, compelling and honest way.

Humanize the transaction to ensure the BPO agents gives their assessment its due consideration and does not disrespectfully complete their work.