Information Disclaimer: Not Your Loan Servicer (Read More)
**We are not affiliated with any mortgage servicer, the investor/beneficiary of your mortgage note, the mortgage insurer (if applicable) or any government agency. We are a homeowner advocacy group with more than a decade of helping homeowners and professionals with mortgage assistance negotiations. The information found on this page is for educational and convenience purposes only. The information found on this page should be considered as opinion and not fact based on our experience with lenders over 10+ years. Consult your mortgage servicer directly or a professional before using any of the information found on this site. If you are seeking an intermediary to assist you in getting help with your mortgage you may contact us at 888-934-3444 or via email at [email protected] for further review for a no fee, no obligation, consultation. If required you may be referred to a local professional or legal counsel for additional assistance with your mortgage. Please read through our Disclaimer page for additional details. We do not represent in any way any financial institution named on this page. If you feel that any of this information has become outdated or is incorrect please contact us immediately.**
Wells Fargo Home Loan Modification Process, Package & Status

  Questions? Call (888) 934-3444

 Wells Fargo Home Loan Modification
If you are unable to afford your current mortgage for the reason of a financial hardship and you want to stay in your home then get help with Wells Fargo loan modification. Wells Fargo may be able to change determined terms of the loan such as interest rate or the time that is allowed for repayment to make your payments more affordable. Basically loan modification is any type of change in the original terms. There are many modification programs that are available for you including; the federal government's Home Affordable Modification Program.  Borrowers are offered different options by these programs in different situations but all of the programs have same purpose; to help people to keep their homes when they are facing a significant hardship. Wells Fargo will help you to decide whether a loan modification or another option may work for you or not.
About Wells Fargo: – Wells Fargo is a nationwide, expanded and community-based financial services company that was established in 1852 and headquartered in San Francisco. Wells Fargo provides banking, insurance, investments, mortgage and consumer and commercial finance through more than 8,700 locations, 12,500 ATMs and the internet.
Homes In Mortgage With Negative Equity
There are approximately 13 million US homes according to online real estate market place that are with mortgages in a negative equity situation. As well as with the negative equity, there are many homeowners who are unable to afford their monthly mortgage payments because of hardships and rising interest rates. For many families, the only hope they have of keeping their homes is to secure a loan modification that reduces their payments and makes their home affordable.
Department of Housing and Urban Development
The US Department of Housing and Urban Development has tried to facilitate the foreclosure crises with programs that are designed to encourage the lenders to modify the loans and provide homeowners with tools and resources to help them in acquiring a loan modification. Especially many homeowners have supposed difficulties working with the Wells Fargo. Whereas Wells Fargo is one of the nation's largest institutions that is currently processing loan modification requests from the millions of customers. There are many happy homeowners who have successfully achieved a Wells Fargo loan modification. MSN Real Estate has provided several tips to get you started down the path to maintaining your home with affordable payments.
Kiss Your Wells Fargo Loan Modification Problems Good Bye! Call 888-945-5553
How Wells Fargo Loan Modification Could Help You? Through the process of Wells Fargo loan modification;
You avoid a foreclosure sale. Even if one is already scheduled, we may be able to postpone it while we review your information. 

You make lower payments. Your modified payment amount that is based on your current financial situation and takes your hardship into account. 

It may be less harmful to your credit score than a foreclosure sale. 
Important Considerations About Wells Fargo Loan Modification: With the Wells Fargo loan modification process it should be kept in mind;
A loan modification changes your loan permanently, so it may not be an option if you are facing a temporary hardship. 

If you have a home equity loan or any other liens on the property, they may need to be addressed separately from your first mortgage. You should make sure that you contact any other lien-holders to find out what options you may have.
How Does Wells Fargo Loan Modification Process Works? If you are considering a Wells Fargo loan modification then here is a step-by-step demonstration showing how the process typically works, from start to finish. Talk To Your Home Preservation Specialist
Provide your home preservation specialist with your financial information, reason for hardship and any additional documentation requested.

Your home preservation specialist will be your single point of contact throughout the loan modification process.
Review Of Your Request – Approximately 30 Days
They review the complete package of required documents that you send to us. They will notify you within 5 days to confirm your package is complete or to let you know if information is missing.

When all required documentation is complete, they will determine your eligibility. If you are eligible, your home preservation specialist will provide the decision and follow-up with you to set up your trial payment plan.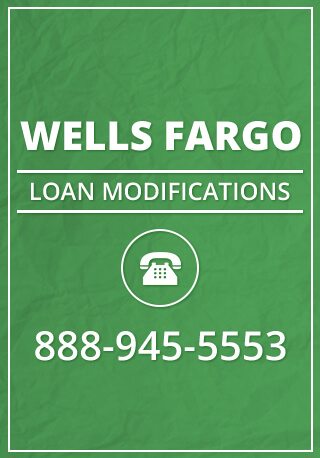 Trial Period – Approximately 90-120 Days
You make a number of trial payments in an amount similar to the amount you would pay with a loan modification.

Your home preservation specialist will monitor your trial period for on-time payments.
Final Modification – Approximately 45 Days
If you successfully complete the trial period plan, and meet all other requirements, we will finalize your modification agreement and send you copies to sign and return.

When you return the signed modification agreement within the required time frame, we will process the modification and send you a finalized copy. At this point, the modified terms replace the original terms of your loan

.
Submit Loan Modification Documents and Check Your Status: If you are working with them on loan modification then use our homeowner assistance website to provide required documents and track the status of your request. Click Check Status, which will take you away from wellsfargo.com to the homeowner assistance website. Verify your account by entering the last 4 digits of your Social Security number, your loan number, and your property ZIP code. Review your loan modification status to see where you are in the process, and what you need to do next. Select the Upload Documents link and follow the instructions to submit required documents electronically. Uploading your documents allows them to start processing your request sooner than if you send them by mail or fax.
Don't Continue To Fight On Your Wells Fargo Loan Modification. ACG Will Do The Fighting For You!